Posted December 2018
Steve Borg edited by Mary Ann McGarry
A brief look at the importance of State Forests and the benefits they provide us, here in New Hampshire, with a focus on Livermore Falls State Forest
The United States Forest Service (USFS) manages nearly 800,000 acres of forest in New Hampshire. 280,000 acres are open for harvest, and only around 800 acres per year are actually harvested (Roger Boyer, USFS).
The value of forests is not just economic, but social and environmental as well. In New Hampshire most of the services provided by the USFS are targeted at tourism and recreation, which can benefit all three sectors. Most people believe harvesting trees is negative, but a case may be made that sustainable management promotes biodiversity and healthy forests.
Importance of Livermore Falls State Forest
State forests provide a variety of ecosystem services of which the public are not commonly aware. These services include provision of goods such as timber, food, fuel and bioproducts; ecological functions such as carbon storage, nutrient cycling, water and air purification, and maintenance of wildlife habitat. Social and cultural benefits include recreation, education, and rejuvenation.. Livermore Falls State Forest is managed as a buffer along the Pemigewasset River. The primary purpose of a buffer is to reduce the amount of sediment, chemicals and other pollutants entering rivers and associated water bodies via stormwater runoff. The trees slow down the flow allowing water to percolate into the floodplain.
Project Goals:
Community members and visitors to Livermore Falls should recognize and appreciate the insight of our ancestors in designating the area a State Forest, thereby preserving the area from development and making it accessible to the public. Interpretive materials can be created to educate the public about sustainable management practices and timber health risks to the local forest. More knowledge about the forest at Livermore Falls can lead to a stronger stewardship ethic.
Threats to Livermore Falls State Forest
With more citizens visiting Livermore Falls, this means more eyes can be trained to look for invasive species that threaten the quality and future health of Livermore Falls State Forest and surrounding forests. .There are three species of highest concern, referred to as the big three, which threaten the forest health in NH- Emerald Ash Borer, Hemlock Woolly Adelgid, and Asian Long-Horned Beetle.
The Asian Long-Horned Beetle is the only species that has not yet been found in NH, as of October 2018,but there have been infestations as close as Worcester, Massachusetts. The other two species have both been creeping up from Southern New Hampshire and are starting to reach the lakes region and the foothills of the White Mountains. As depicted in Figure 1, the Emerald Ash Borer is of major concern in the southern part of the state and the Lakes Region; Livermore Falls is just to the north and west of this area.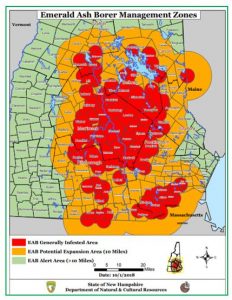 Figure 1 shows the infestation of the Emerald Ash Borer as far north as the lakes region, just to the south and east of Livermore Falls.
Figure 2 shows the distribution of hemlock trees and the distribution of the Hemlock Woolly Adelgid infestation. This species is migrating north where the hemlock trees are more abundant. This is another major species of concern because it has already been identified in NH, and it looks like it is going to continue to spread.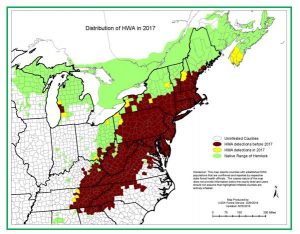 Figure 2 The green is the distribution of the hemlock trees and the brown is the Hemlock Woolly Adelgid infestation.
The infestation of the three species can lead to decreases in quality of timber, tree populations and recreation. There will be a decline in recreation due to the decrease in tree quality and density of the forest. Activities such as birding, hiking, biking and cross-country skiing will be less desirable if there is damage to the forest. Less recreation and tourists negatively impacts the economy of New Hampshire.
The forest is a crucial resource to the state of New Hampshire It is a big part of our identity and is a place that can connect people to each other and to their environment. The forest also provides a massive source of revenue through timber sales and recreation. Figure 3 shows the forest-based economy plays a significant role in the overall economy of New Hampshire. It provides millions of dollars in revenue and creates thousands of jobs for residents. This is a quantifiable reason to reduce the spread of invasive species. Invasive species can spread through State Forests impacting the experience of visitors and the insects can spread to adjacent private, state, and federal forests. People should be aware of the benefits forests provide  and understand why stewardship and sustainable management practices are so important.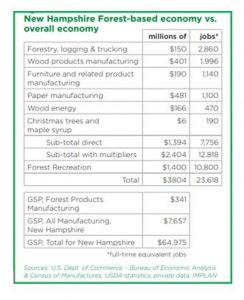 Figure 3 Infestation of invasive insect species in the forest can impact the economic contribution of forest provisioning services.
Environmental Benefits of Livermore
In addition to social and economic benefits of forests, state forests provide an environmental benefit, particularly Livermore Falls state forest which make a great riparian buffer or stream buffer. This forested area, helps shade the river keeping the water cooler and with more oxygen. The forest provides a safe travel corridor for wildlife. Such buffers play a key role in maintaining water quality in adjacent rivers like the Pemi. The primary purpose of the buffer is to reduce the amount of sediment, chemicals and other pollutants entering the adjacent river Sediment and pollution being carried in the runoff is deposited in the buffer rather than in a stream. Figure 4 shows a basic model of a riparian buffer and the benefits that it provides. The future health of our forests and those forming buffers are at risk from the spread of invasive species such as the "big three".
Figure 4 Benefits of healty stream buffers
What Can You Do?
If you have questions about invasive insects, call the UNH Cooperative Extension Forestry Information Center at:1-800-444-8978.
You can help protect New Hampshire's forests by:
Reporting suspect trees or insects.
Considering insecticide treatment of some trees.
Being aware of the risks of spreading.
Knowing and implementing best management practices to avoid transporting these pests.
It takes years or decades for these pests to spread naturally, but humans can spread them in just hours or days. For that reason, the spread of invasive species is an essential issue to know about. Figure 5 shows quick references of different types of tree damage caused by each invasive species.
Figure 5 Emerald Ash Borer, Hemlock Woolly Adelgid, and Asian Long-horned Beetle
Conclusion:
There are countless benefits provided by state forests like at Livermore Falls in New Hampshire. Informational signage at Livermore Falls State Forest can help educate visitors about the importance of riparian forest buffers next to our rivers as well as the importance of detecting and controlling invasive species that can harm these very beneficial forests.
Resources:
Center, National Invasive Species Information. "State Resources – New Hampshire." National Invasive Species Information Center, 8 Sept. 2018, www.invasivespeciesinfo.gov/unitedstates/nh.shtml.
Nicholas, Lindsie. "Riparian Buffers." Bluegrass Greensource, 2018, bggreensource.org/riparian-buffers/.
Morin, Randall S.; Widmann, Richard H. 2016. Forests of New Hampshire, 2015. Resource Update FS-71. Newtown Square, PA: U.S. Department of Agriculture, Forest Service, Northern Research Station. 4 p.
"Asian Longhorned Beetle." NHBugs, 2018, nhbugs.org/asian-longhorned-beetle.
"Emerald Ash Borer." NHBugs, 2018, nhbugs.org/emerald-ash-borer.